...and if those benefits weren't enough, there's MORE!
WHEY
Let me make it easy for you. It all starts with the type of protein. My favorite is whey, because it has branched-chain amino acids, which are the best building-blocks for re-building muscle and helping you burn fat. But the QUALITY of the whey is essential. You need a formula that's going to be easy to absorb and digest and that's made from only natural ingredients.
The whey in the Kathy Smith Protein Shake comes from free-range cows from the western coast of New Zealand. These cows forage on natural plants from the ocean and plain. So this means they eat a wide variety of plants which allows for a full spectrum of protein.
BELLY FAT
Throughout my entire career, I've found that by far, the number one concern for women is belly fat. Around age 35, women start struggling with that dreaded muffin top because of the combination of having children, shifting hormones, and losing muscle mass.
Truly, one of the secrets to keeping off belly fat is adding high-quality protein to your diet...And an easy way to do that? Through protein shakes. The reason why? With every glass of the Kathy Smith Protein Shake you're giving your body nutrients to take control of your health.
Exercise alone won't do it. Because one crucial piece of the puzzle is missing: balancing blood sugar.
BLOOD SUGAR
The types of food you eat impacts your blood sugar levels. When your blood sugar levels rise or fall too dramatically or too frequently throughout the day, you get stuck in a sugar-craving cycle.
Your energy levels are depleted, you are prone to "fuzzy thinking," and you start to crave sugary foods. So you reach for a quick sugar boost…and start the cycle all over again!
If you want to lose weight and belly fat, one of the things you need to do is balance your blood sugar. By limiting your intake of refined carbohydrates and adding a consistent intake of protein, you can step off the blood sugar roller coaster.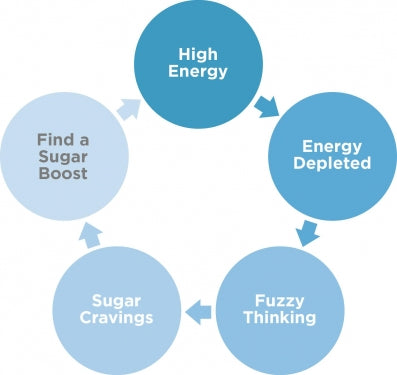 My motto for a healthy lifestyle is PROGRESS NOT PERFECTION. Consistent, small steps can make big changes. If you want to feel sexy, slim, and have a vibrant life, then begin by making small changes and experience the difference. You're going to be amazed at how much better being healthy will make you feel on every level...mentally, emotionally, and physically!
Get Started